My very best buddy Christy from Christy's Coffee Break nominated me for the
Mariuca's Superstar award!
I love it, love it, love it
Christy!


When I read the award title I thought of a Saturday Night Live character who says I love it, love it, love it, as she kicks her legs in the air! She's kidding, well actually overacting to be funny, but I wasn't when I danced around my living room with my groovy new award, reciting I love it, love it, love it!

Evidently, Mariuca's readers missed her enough to leave comments when she was away, so she created this award to thank them. As I read Mariuca post, I realized how considerate and kind bloggers can be, or I should say friends can be. Good bloggers use the opportunity to write in a positive way, a way that makes a real difference in the lives of others every day.

I think those are the bloggers Mariuca is referring to as Superstars! Thank you Christy for thinking of me as one of those bloggers, and thank you Mariuca for creating this award. Mariuca seems like a special person, and I know Christy's friendship is a virtue. I'm happy to be on the planet with these two woman.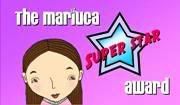 I think the following blogs have the characteristics so often associated with what Mariuca, Christy and I think of as a Super Star.

First Time Dad

Twisted Sister
SpeedcatHollydale
Eat Your Maths

NoDirectOn(Not: NoDirection)
dcrBlogs
Jay's World
BlogElf
Monday Morning Power
ComedyPlus
The Rising Blogger
Nonsense,Fun,Tears,Happiness,And Anger All Rolled Into One
BlueRibbonBloggers
Santa'sCommunityBlog
TotallyFabulous
Polliwog'sPond
Bobbarama.com
Revellian
WheeTheWholeWayHome
CaribooPonderer
Kissing The Dogwood
Dutchcorner