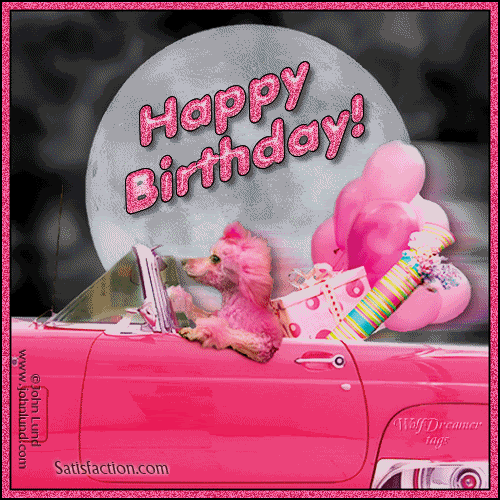 Free Comments and Graphics
Photobucket Login - Upload Pics
Today is my dear friend Dawn from
Twisted Sister's birthday.
Although, I met Dawn through blogging, the minute I read one of her posts I knew we would be fast friends one day, which just goes to show that my woman's intuition is still in tact, because we did turn out to be pals.
I think it's amazing how well one person can get to know another simply by writing back and forth, even if they're just reading each others posts. Because, although Dawn and I are pen pals now, we haven't always e-mailed each other. Meaning, we were friends just through reading each others posts for at least a year before we e-mailed each other.
We have rediscovered through e-mail and computers the ancient and rare gift of communicating solely through the written word. It amazes me how much more you learn about a person you're writing as well as yourself, when you write letters or e-mail. I would have never dreamed I would develop the friendships I have through blogging.
Especially, since although I'm outgoing, I'm an intensely private person whose closest friend is my cat, besides a few old friends from high school. And now I cannot imagine life without my blogging friends. In fact, if it hadn't been for Dawn and the rest of you who know who you are, I'm not sure I would have made it through many rough spots.
Anyway, I feel as if I know Dawn and many of you as well as I do many close friends I see everyday. But it is a different kind of friendship, for instance, people who have known each other for years can finish each others sentences, guess what they may be thinking, and read each others expressions. It's because they've been around each other so much they're in tune to one another, well I think the same is true if you write someone frequently.
For instance, if you write each other often enough you develop a six sense for what your friend is feeling or going through, in much the same way you would pick up on whatever they were experiencing if you were used to seeing them in person.
It's just two different ways of communicating, although I didn't expect to find friendships from writing a blog or web site. I usually wrote people I already know, which was different, and in many ways not as rewarding- maybe because I was used to communicating with them on another level.
In any event, it's great to have a pen pal and a friend like Dawn, who I would have never known without the benefit of the written word. And because of the internet, I met someone I will always consider a close friend, however, I do have a confession to make. I just found out yesterday, that today was Dawn's birthday, because she slipped and told me in an e-mail when referring to something else. Therefore, be sure to stop by her blog,
Twisted Sister
and tell her Happy Birthday.
She'll wonder how in the world you knew...unless in the meantime she reads this post or another friends post who is wise to her birthday. However, I do hope she reads this post soon, because I want her to see this fantastic picture.
"When I saw this graphic Dawn, I wished for you, the gift of a free-spirited ride down a highway headed anywhere; just you, and a back seat full of presents driving on an open road; with your hair flying in the wind, and your hand tapping along to a song on the radio ..."
Happy Birthday, my friend ~ We all luvs ya~